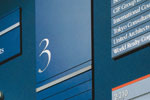 KING Modular Signs
(KMS) is an extremely versatile interior signage solution based on an array of interlocking dovetailed aluminum extrusions. ADA compliant.
---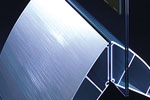 Freestanding Sign System
(FSS) is an adaptable, durable solution consisting of an extruded aluminum aerofoil base for dissemination of temporary or permanent public information.
---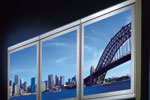 Poster Display System
(PDS) is a 3″ deep illuminated poster display, which has been architecturally designed to blend into any interior finish.
---
Gray Light Directory System
(GDS) is an elegant rear-illuminated strip directory system designed for durability and functionality.
---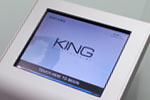 Is a user-friendly interactive computerized directory and wayfinding solution for easy access to facility information.